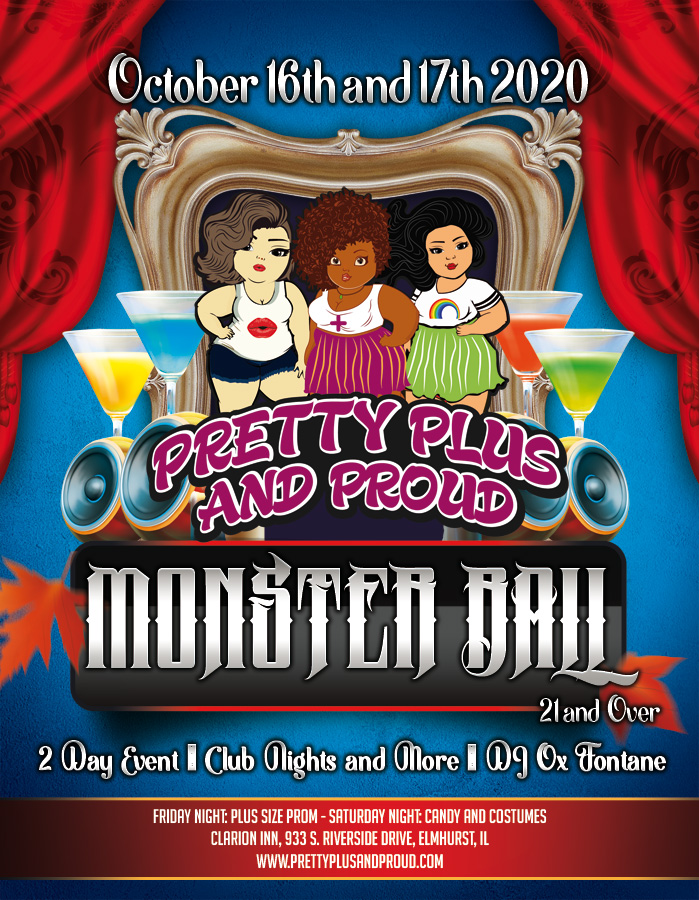 Join Pretty, Plus and Proud for our first ever two day Plus Size event!
Friday Night: Plus Size Prom!
Let's make prom memories! Everyone is a prom king and queen for the night as we dress up, rock corsages, snap photos and dance all night to the music of DJ Ox Fontane.
Cash bar! Drink specials!
Party from 9pm to 1:30am
Saturday
11:30am – 12:30pm
Wakeup and Makeup
A makeup class hosted by Novella of Pretty Plus and Proud. A discussion and tutorials based class covering various makeup techniques requested by you!
1:00pm – 2:00pm
Women's hour
Join Rita of The Best BBW Bash as she encourages open conversation and socialization, placing emphases on the female perspective.
1:00pm – 2:00pm
Men's hour
Join Stu of Xlence Plus as he gathers the fellas together to socialize and converse with the men of the plus size community.
3:00pm – 4:30pm
Vendor Fair
Have a product? Own a organization? This is your time to network, promote and sell.
No vendor fees! Your bash pass is all you need! *
*All businesses must be granted approval from Pretty Plus and Proud.
Saturday night: Trick or Treat: Candy and Costumes

Guaranteed to be the sweetest and spookiest party of the year. Think sugary goodness with the perfect excuse to dress up in your Halloween best all while the music of DJ Ox Fontane, keeps the plus size babes, Gents and their admires dancing all night long.
Cash bar! Drink specials!
Party from 9pm to 1:30am
Hotel Reservations :
Reservations can be made via the following link: https://www.choicehotels.com/reservations/groups/UL38J0 or by calling our hotel directly at 630-279-0700 and mentioning the group name "Pretty, Plus, and Proud".
Regular rooms are $89.99 a night, suites are $109.99 a night + taxes.
Purchase your pass in the Shop.